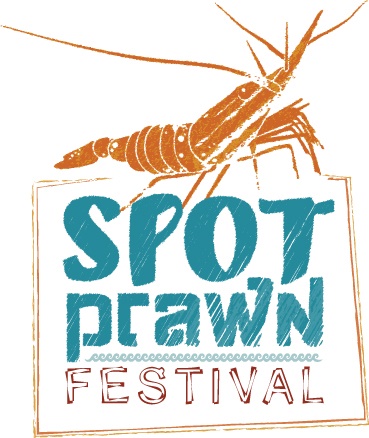 On Sunday May 19, 2019, join the Chefs' Table Society of British Columbia for a celebration of an iconic BC product at the annual Spot Prawn Festival.
The Festival is the Chefs' Table Society's annual Fundraiser allowing us to give scholarships and cover our operating costs.
You have THREE ways to enjoy it:
FREE – access to the docks, view cooking demos and more

$12 – 10 oz of Chowder – to go if you want!

$60 – Spot Prawn Brunch – grazing style with a tasting menu of 6 delicious spot prawn dishes
The same family-friendly festival remains with live cooking demos with some of Vancouver's top chefs! Fun for the kids! Live music! And more!
While the festival is free, in order to enjoy any of the delicious food prepared by our chefs, tickets are required.
This is the Chefs' Table Society's main fundraising event so it can continue to provide education, mentorship and sustainability initiatives across the province.
CHOWDER
Instead of the traditional boil, a delicious bowl of award-winning Chowder from Chef Welbert Choi served with bread from Terra Breads.
Our chowder, created by chefs, is full of flavour!!
Ticket for the chowder with a freshly baked bun is $12 a bowl (plus tax and service) and if you want, you can take it to go!
NO LONG WAIT!!! Choose to enjoy your Chowder in one of the following time slots:

11 am to 12 pm (noon)
12 pm (noon) to 1 pm
1 pm to 2 pm
2 pm to 3 pm
The time, clearly indicated on your ticket, should be respected! Please note that showing up early for your time will not give you earlier access and that showing up late might make you wait longer.
SPOT PRAWN FESTIVAL BRUNCH

A wonderful idea for an outing on the long  weekend: a brunch featuring a tasting menu with 6 delicious spot prawn dishes showcasing the many ways this delicacy can be served.
Dishes will be prepared by some of BC's finest chefs, a nice way to sample various creations and for you to say hello to the chefs as you move between the food stations and savour samples of wine from The Bacchus Group and beer from Granville Island Brewery, as well as coffee from Mogiana Coffee.
Two services are available and our participating chefs and restaurants are:
11:30 am to 1 pm service
Chi Le, Chi Modern Vietnamese Kitchen & Bar
Warren Chow, Juniper Kitchen & Bar

Lee Cooper, Coquille Fine Seafood
Stacy Johnston, Ocean Wise

Evan Morgan, Yew Seafood & Bar
David Mueller, Bauhaus Restaurant 
1:30 pm to 3 pm service
Chris Andraza, Fanny Bay Oysters Bar & Shellfish
Justin Cheung, Longtail Kitchen
Eva Chin, Boulevard Kitchen and Oyster Bar
Westley Feist, Vancouver Marriott Pinnacle Downtown 
Sean Cousins, Joseph Richards Group 
Derrick Sibayan, Colette Grand Café @ Holt Renfrew 
Ticket for the brunch is $60.00 per person (plus tax and service fee) and includes a delicious tasting menu consisting of six spot prawn dishes, wine samples from The Bacchus Group, beer samples from Granville Island Brewery, bread from Terra Breads, and a coffee from Mogiana Coffee.
Also not to be missed, our COOKING DEMO STAGE.
11:00 am   TBC
11:30 am   TBC 
12:00 pm   TBC  
12:30 pm   TBC  
1:00 pm     TBC
1:30 pm     TBC
2:00 pm     TBC
THANK YOU TO OUR SPONSORS!
The Spot Prawn Festival is made possible due to the generosity of our sponsors, who have been with us since the beginning and some new friends we made along the way:
Tickets always sell out and space is limited so to avoid being disappointed, don't wait, buy your tickets as soon as possible.