PEACHFEST RETURNS TO DOWNTOWN ATLANTA IN NEW LOCATION AT PEACHTREE CENTER

Summer in Georgia signals the start of peach season and this year, Georgia's popular PeachFest is moving to a new location: Peachtree Center. From 3 p.m. until 7 p.m. on Sunday, July 21, downtown Atlanta's iconic mixed-use development will open its beautifully renovated plaza to more 70 food artisans, pastry chefs and barkeeps for the third annual peach-filled extravaganza. 
At PeachFest, guests will have the opportunity to sample the best dishes the city's culinary scene has to offer and rub elbows with some of Atlanta's famous chefs. The sight alone will be worth the downtown detour as guests sample specialty crafted tastes, bites and sips of various on-and-off-menu favorites all featuring the state's signature fruit: the Georgia peach.
Focused on supporting agriculture and providing opportunities for the future farmers of America,the event  generates opportunity for smaller farmers across the state. At the helm of the fundraiser is a not-to-miss silent auction featuring items from Atlanta restaurants and sponsors, including rare cellared wines. For an in-depth look at PeachFest, visit the website and watch the overview video.
PeachFest Tickets start at $70 for the all-inclusive afternoon affair. Entry to the event gets you peach-centric dishes of all varieties such as pizza, paleo, baked goods, appetizers, beer, wine, cocktails and much more curated by some of the leading influencers in the city's food and beverage industry. VIP entry costs $100 and includes early access, an extra hour of the festival which includes a private tasting of cellared wines in the silent auction lounge, limited dishes, reserve spirits and more time to mix and mingle with the chefs, winemakers and farmers.
The beneficiary of the event, Piggy Bank, operates as a project of the Multiplier which is a 501(c)3 tax-exempt nonprofit organization that aims to advance initiatives focused on protecting and cultivate a healthy, sustainable, resilient and equitable world.
Official Host: Peachtree Center
When: Sunday, July 21, 2019
Time: 3 p.m. for VIP entry, 4 p.m. for General Admission; Ends at 7 p.m.
Tickets: VIP Access, $100; General Admission, $70 www.peachfest.org
JOIN US THE WEEK BEFORE FOR VERY SPECIAL POP-UP EVENTS
** Tickets to dinner does not include access to Peachfest **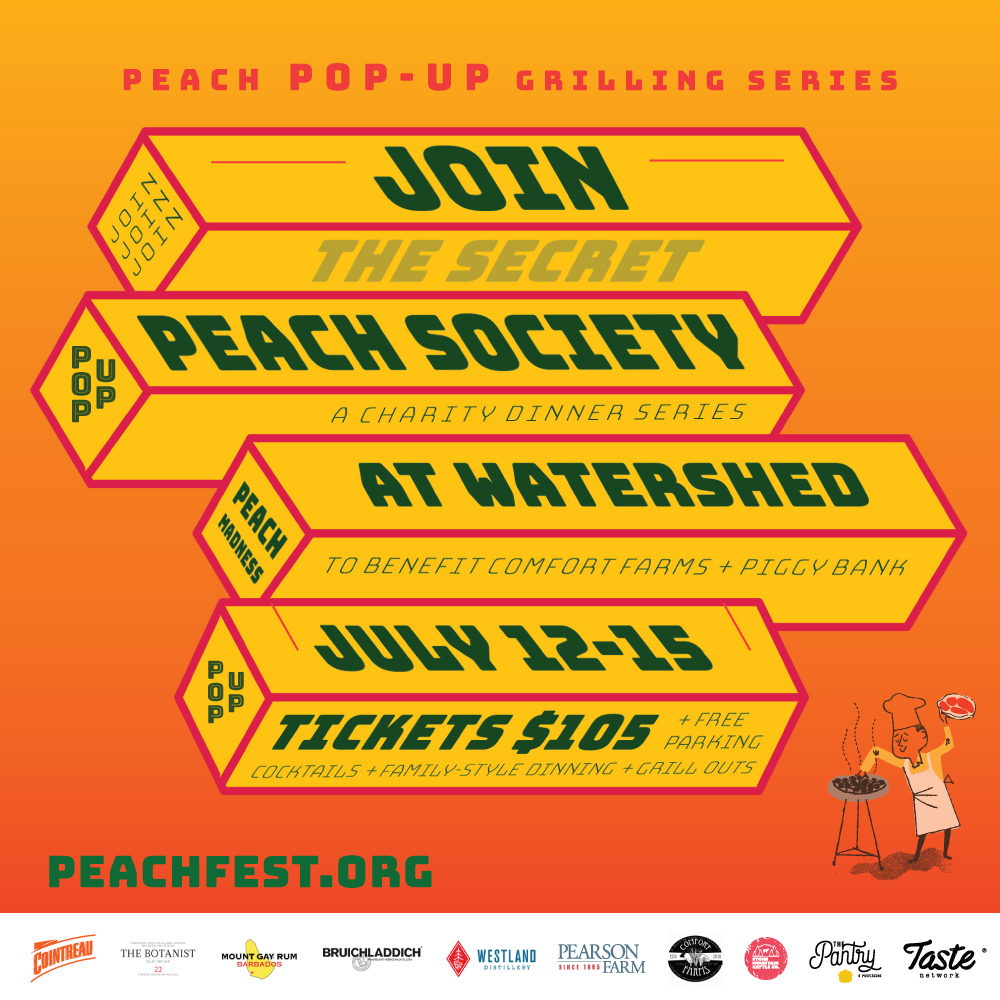 "SECRET PEACH SOCIETY" GUEST CHEF DINNER SERIES
All-Inclusive Pop-up Dinner Experience celebrating Peaches, Grills & Tomahawks
Friday, July 12th (Viet-BBQ Style)
SOUTH OF HEAVEN BBQ with Chefs Judd Foster + Shane Devereux
Saturday, July 13th (Euro-Mediterrean Meats Comfort Farms)
ROZINA BAKEHOUSE with Chef Shay Lavi + Farmer Jon Jackson of COMFORT FARMS
Sunday, July 14th (Puerto Rican Style)
PORCH LIGHT LATIN KITCHEN w. Chef Andre Gomez + Chef Julio Delgado of MINNIE OLIVIA PIZZERIA
Monday, July 15th (Peach Madness)
SEVEN LAMPS Chef Drew Van Leuvan + Host Chef Matt Marcus of WATERSHED
Peachfest, Comfort Farms, Piggy Bank, Watershed, Pearson Farm and Brady Lowe invite you join the "Secret Peach Society" at Watershed on Peachtree Road. A pop-up dinner series for charity (July 12-15) will feature guest chefs, notable barkeeps and farmers working together to create an intimate family-style peach feast paired with premium spirits and lively discussions. Chefs will lead a journey through their favorite farms while preparing a stunning four-course feast over fires. Remy Cointreau will expand the evening with an open bar filled with hand-crafted cocktails featuring Westland American Whiskey, Cointreau Orange Liqueur, Bruichladdich Scotch, Mount Gay Rum and Botanist Gin. Come prepared to eat and drink well. The $105 price tag is all-inclusive of four courses, tax and tip. Dinners are limited to 20 people. Reception starts promptly at 7pm, dinner at 7:30pm.

Our celebrated hosts will lead a discussion around the table that will accelerate the pace of innovation in agriculture in Georgia. The table engages in discovery, edible discussions and drinking. We eat together and seed ideas for the good food movement. Special thanks goes to our local farm partners including Pearson Farm peaches and monster pork tomahawks for Stone Mountain Cattle Company.